Venue & Hospitality
Welcome to the Official Attendee Housing Site for the "
4thInternational Conference on Atomic and Nuclear Physics
" which will be held in the Athens of America; Boston, USA.
The conference will take place in the following dates and location
Courtyard by Marriott Billerica/Bedford
270 Concord Road Billerica
MA
, 01821
USA
Hotel Contact Communication
:
KIM GALVIN
- Corporate Group Manager
T: 978-670-7500
E: [email protected]
For any further information, please feel free to write us @:
[email protected] | [email protected]
Conference Dates: October 26-27, 2018
Hotel Services & Amenities
Audio/Visual Equipment Rental.
Business Center.
Business Phone Service.
Complimentary Printing Service.
Express Mail.
Fax.
Meeting Rooms.
Office Rental.
Photo Copying Service.
Secretarial Service.
Telex.
Typewriter.
Video Conference.
Video Messaging.
Video Phone.
ATM.
Baggage Storage.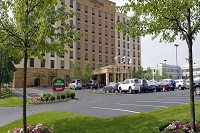 Transportation

Boston Logan International Airport to Courtyard by Marriott Boston Billerica/Bedford hotel by car (33 min)
Get on MA-1A S from Airport Rd - Arrival Level 4 min (1.8 mi)
⇧ Head south-east 20 ft
↰ Keep left, follow signs for Arrivals and merge onto Airport Rd - Arrival Level 1.0 mi
↗ Use the right lane to turn slightly right to stay on Airport Rd - Arrival Level 0.2 mi
↗ Use the right lane to turn slightly right 0.2 mi
↗ Keep right at the fork, follow signs for MA-1A S/Interstate 93 N/Sumner Tunnel 0.3 mi
Take I-93 N, I-95 S and US-3 N to Concord Rd in Billerica. Take exit 27 from US-3 N 26 min (24.0 mi)
⬆Continue onto MA-1A S 0.3 mi
↰ Keep left to stay on MA-1A S (Partial toll road) 1.2 mi
↖ Use the left lane to take the Interstate 93 N exit towards Government Center (Partial toll road) 489 ft
↱ Keep right, follow signs for I-32 N and merge onto I-93 N 10.8 mi
↗ Take exit 37B to merge onto I-95 S towards Waltham 5.5 mi
↗ Use the right 2 lanes to take exit 32A-32B for US-3 N towards Lowell 0.7 mi
⬆ Continue onto US-3 N 5.1 mi
↗ Take exit 27 for Concord Rd towards Billerica/Bedford 0.4 mi
Continue on Concord Rd to your destination 2 min (0.7 mi)
↰ Use the left 2 lanes to turn left onto Concord Rd 0.4 mi
↰ Use the left 2 lanes to turn left
Destination will be on the right 0.3 mi
About City
Boston is one of the most established urban areas and is the capital and most crowded city of the Commonwealth of Massachusetts in the United States. It has turned into the most recent city to focus on running 100% sustainable power source.
It has a lot of galleries, chronicled sights and plenitude of live displays therefore the city gets 16.3 million guests per year, making it one of the ten most conspicuous guest zones in the country. Boston is surrounded by the "Greater Boston" region. Boston is here and there called a "city of neighborhoods" because of the abundance of varying subsections; the city government's Office of Neighborhood Services has legitimately relegated 23 neighborhoods. Boston has a moist mainland atmosphere. The city schools and universities apply a tremendous impact on the regional economy. Boston pulls in more than 3,50,000 understudies from around the world, who contribute more than US$4.8 billion consistently to the city's economy. Boston has been known as the "Athens of America" for its unique culture, acquiring reputation for being "the academic capital of the United States.
City attractions of Boston: Freedom Trail-The three-mile Freedom Trail drives you past and into 16 of the city's important noteworthy landmarks and locales. It's anything but difficult to take after, by the line of red blocks in the walkway and by impressions at road intersections. Begin by picking up brochures on the attractions at the Visitor Centre in the Boston Common before heading to the State House. Faneuil Hall-Known as the "support of freedom," Faneuil Hall was worked in 1740-42 by Huguenot dealer Peter Faneuil as a market corridor and displayed to the city on condition that it ought to dependably be interested in people in general. The ground floor is as yet involved by advertise slows down; on the upper floor is a board load, which in the eighteenth and nineteenth hundreds of years was the meeting spot of progressives and later, of abolitionists. On its fourth floor the Ancient and Honorable Artillery Museum, with weaponry, garbs and depictions of critical fights.